You may be familiar with penalties in professional sports. If a player does something unsportsmanlike or violates the rules of the game, they are often penalized for their actions. Google penalties are very similar to that. In essence, they're designed to punish websites that have done something wrong. These penalties aren't always handed out manually, and they may impact websites built by those who had no idea what they did wrong, but they can still greatly impact a site's performance and beyond.
If you received a manual action report in Google Search Console – don't panic. This article will help you pave the way for penalty recovery.
What is a Google penalty?
If your website traffic suddenly drops and you see a corresponding decline in rankings, there is a good chance that you are on the receiving end of a Google penalty. Google reported in 2014 that over 400,000 manual actions are taken against websites every month by their webspam team, and that's really only a fraction of the total number.
Google's documentation about Manual Actions report defines this as:
"The Manual Actions report lists instances where a human reviewer has determined that pages on your site are not compliant with Google's webmaster quality guidelines. Google's algorithms can detect the vast majority of spam and demote it automatically; for the rest, we use human reviewers to manually review pages and flag them if they violate the guidelines. Flagged sites can be demoted or even removed entirely from Google search results. The Manual Actions page lists known issues on your site and provides information to help you address the problem. The Manual Actions report lists manually detected issues with a page or site that are mostly attempting to manipulate our search index but are not necessarily dangerous for users."
In short, if the Google algorithm finds any suspicious links to and on your site, they will either remove the site from SEO or it will be significantly less visible.
A Google penalty can be extremely detrimental to your web pages. The consequences of receiving a manual action can be devastating: lost organic search visibility, a major drop in your organic search traffic from Google, a decrease in user experience, negative usage of SEO, organic traffic, and revenue. A Google penalty means your sites are either no longer listed, or that your ranking for your targeted keywords has dropped dramatically, no matter how much effort you put in building the sites' content. When your site gets a Google penalty, neither your target audience nor the mass public – literally all the people of the planet, can't find you. And when you are invisible to your target audience, your organic traffic, and ultimately revenue, drops.
It can happen to any website. A Google penalty can be the result of well-intended and honest efforts to improve your site's ranking. But once you receive a Google penalty, it isn't easy getting your good ranking back, and getting back into Google's good graces.
What causes your site to be hit with a penalty?
A wide range of factors can cause your website traffic or rankings to suddenly drop, but penalties assessed by Google are among the first things we look for when diagnosing the problem. Links to a low-quality site, hidden text, keyword-stuffed content, and more can trip one of Google's penalty filters and knock you out of a good spot on search engine results pages.
To ensure your site doesn't receive a Google penalty, make sure your site does not have:
Spyware, adware, or viruses
Hidden, low-quality links and low-quality content, or even unnatural links with over-optimized anchor text.
Buying backlinks, link swapping, reciprocal links, and other
Cloaking (displaying a different version of a webpage to the search engine robots)
Deceptive redirects (when a visitor is automatically taken to another page without clicking anything)
Pages loaded with irrelevant keywords
Keyword stuffing
A substantial amount of duplicate content, or "thin content"
The list of Google penalty triggers is extensive, but they can easily be summed up: penalties are triggered by any action a website takes to fool a search engine, negative SEO effects, or harm the user experience in some way.
Penguin, Panda, and more?
Google constantly tweaks its algorithms and filters to increase the relevance of search results to its users. It doesn't want us to have to look very far or for very long for the right information, so anything Google deems a barrier to that — such as spammy links that direct users to places they don't want to go — can affect site rankings. There are hundreds of Google ranking factors, but when it comes to the main penalties, there are some specific factors at work. Here's a summary:
Panda penalty
Panda penalty is an algorithmically applied filter for on-site factors relates to content issues, such as low-quality content or large quantities of duplicate content on your site. In general, Panda penalties gauge the quality of a site when determining rankings.
Penguin penalty
Penguin penalty is not technically a penalty; it's a filter that devalues spammy links to your site. The Penguin algorithm update was initiated to identify low-quality, "unnatural links. If your rankings are being affected by Google Penguin, we can help with recovery services.
Unlike the Panda algorithm update, Penguin affects only specific pages.
Manual penalty
Manual penalties are not levied automatically — a human on Google's webspam team makes the call on assessing a manual penalty. Manual penalties can come from Google seeing evidence of involvement in link schemes or deceptive link practices, including unnatural outbound or inbound links.
User-generated Spam
Do you know those daily spam emails offering cheap SEO and page one results? You can thank those "black hat SEOs" for creating this headache. (For the record, this is not link building.)
User-generated spam is usually found in forums, comments, guestbook pages, and user profiles. This penalty is another one that comes in two forms:
Partial matches affecting portions of your site.
Site-wide matches affecting your whole website.
Please note that high-profile updates like Penguin and Panda aren't actually penalties; they are algorithms. Algorithms rely on a set of rules and calculations to automatically deliver the desired outcome.
In the case of Google Panda and Google Penguin penalty, the end game for Google is to reward websites in the results that meet their "quality standards," as defined by webmaster guidelines.
In the case of a manual penalty, Google employs an army of manual reviewers to review and rate websites that slide through the algorithms but don't meet Google's quality standards.
The Complete List of Google Penalties
If you suddenly see a traffic drop, you'll have to find out what caused it. There are two main penalties you can get. The first one is a manual action from Google's spam team, and the second one is an algorithmic penalty.
Manual actions
To find out if your website was penalized by a manual action, go to Google Webmaster Tools (Google Search Console) and check to see if you have any new notifications. Below you can see an example of an "unnatural links" message: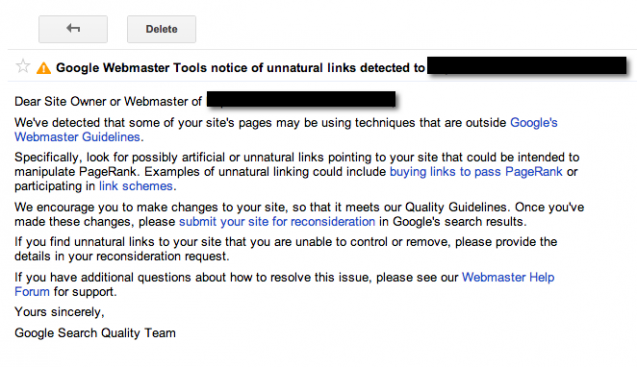 If you have no warning messages on Google Webmaster Tools (or otherwise known as Google Search Console), dig deeper to find the cause of your traffic drop.
Algorithmic penalty
To identify what type of algorithmic penalty your website has, you will have to correlate the time period when you lost traffic with the date when a new algorithmic update occurred.
5 Simple Steps for your website to Recovery
A sudden, unexplained drop in rankings can be detrimental for an agency, but you can still find a way to start a Google penalty recovery. All it takes is a few simple steps.
Here is the best way for your agency to kick-off the penalty recovery process.
Step 1: Start Link Detox
Above all, the first thing you need is to run a DTOX report. After logging in to your LRT (Link Research Tool) dashboard, you will find it under the Audit & Recovery section. Please see below.
Once you have clicked on that link, you will be redirected to a page where you can choose the settings under which you want this report to be executed.
When you have selected all the desired options, just click "Run Link Detox". After you hit that button the report will process, waiting time for finishing the report varies depending on the number of backlinks for the domain in question. The more bad links site-wide, the longer the waiting time.
If there are way too many links, both the high quality and the low-quality links site-wide, make sure the internet connection is stable and you have your time to spare because it will take a whole lot of time!
Step 2: Analyze the Results
If your backlinks portfolio consists of several million links, then prepare yourself for a bit longer waiting time. Reprocessing such a large amount of links isn't a trivial task. It takes time and CPU power.
In my personal experience, usually, all it takes is 3 to 5 hours for this task to be finished.
Another cool feature of the DTOX report is showing you the level of your Domain-wide Link Detox Risk. This is especially useful for having a glance overview of your complete link profile and for determining the course of action that should be undertaken.
The above are all the major options you need to be aware of to start working on your links. Now we are going to show you how to remove the bad links.
Step 3: Disavow Bad Links in LRT and Google Search Console
This is an important step in the overall recovery: Identifying and Removing Bad Backlinks. When you click on "Show me these links" text in that table mentioned above, Link Detox will filter out toxic links automatically and prepare them for you to review. More precisely, it will only select links with High and Above Average DTOXRISK.
The next step was to select all the links by clicking the checkbox at the bottom left of the page and then additional options appear like sample backlinks report, bulk analyzes pages, add to project blacklist, etc. Repeat this process until you remove all the links/domains that had High and Above Average DTOXRISK.
You can check out Google's support page on disavowing backlinks for more information on the process.
The last step in this part of the process was to export a Google Disavow file. The data is being downloaded in the correct format and can be directly uploaded to the Google Search Console (formerly Google Webmaster Tools).
Step 4: Start Link Detox Boost
This handy tool forces the Googlebot to come around and crawl the bad links you have already disavowed and values the Disavow command knowing what links not to count towards your website anymore.
Step 5: Reconsideration Request approved by Google
Do not be discouraged if you don't succeed on the first try. By the way, this is how it looks when Google rejects your reconsideration request. After receiving these emails, all you can do is to continue with the process of examination and disavow bad links until you are approved.
Make sure to repeat the above-described process over and over again until you succeed. Because after all, no pain no gain. This is how it looks when Google approves your reconsideration request. What a tremendous reward!
Even though they don't guarantee any improvements in rankings or search results (SERP), we have experienced a slight boost in SEO visibility after this Penalty was removed.
And what is SEO visibility anyway?
SEO visibility is a metric that tells you what percentage of all possible organic clicks (from SERPs) a website is getting for a given keyword. SEO visibility is not to be understood in terms of raw traffic numbers, but rather your position in the SERPs themselves concerning your competitors.
Checking your disavowed links from time to time is a highly recommended practice. Why? Because just as your website changes its SEO visibility, Power, and Trust – the same goes for other websites.
For further analysis, make sure to visit these updates to quality content to Google penalty recovery. Or, if you prefer the use of mobile devices or smartphones, check out some updates on mobile content strategy to avoid google penalty.
On a side note, remember to pay attention to your sites' link building, as well as regular algorithm updates on your web pages. We also encourage you to improve the sites' overall content, by deleting spam or duplicated content, and try to produce an adequate amount of high-quality content while getting rid of unnatural links on your sites at hand. Besides, it's advisable to check your anchor text distribution because in general, Google doesn't like exact match anchor text.
Google Penalty Recovery Services
If you are having issues with Google penalty, check out The LRT Superhero Standard Plan. This includes all our 25 link data sources and allows you to perform link analysis and monitoring, SEO competitor research, Google recovery, and link building for your own or your competitor's sites.
You get your website's complete backlink profile re-crawled and enriched with all SEO metrics you can dream about for your analysis. This makes all the difference.
Besides, consulting a marketing agency that provides penalty recovery services is always a good choice.
Conclusion
Whether you have built some bad backlinks to your website or someone has used negative SEO against you, getting rid of a Google penalty is doable.
If you check your backlink profile on a regular, weekly basis – then you don't have to be worried about any Google Penalty. It is as simple as that. Monitor backlinks should become a necessity for every website.
The same goes for Google. If we don't pay attention to our backlinks, Google will punish us for not taking care of them. Therefore, we highly recommend you make updates and take care of your backlinks on your web page before it's too late and you receive an email about the penalty.
We hope the above article has given you and your agency adequate information on the Google penalty recovery. Now, once you have understood this restriction on your website, kick off your Google penalty recovery process and get back to business,